Stockport Plasterer: Plastering Project Case Studies
The purpose of this section of the Stockport Plastering web site is to showcase to visitors the range and type of plastering, building maintenance, building repair and small building alteration projects that can be undertaken by John Oldham.
Obviously with over 32 years of experience, this is only a very small selection of the jobs that John has done. These Case Studies focus on the most recently completed and ongoing jobs carried out and the intention is to expand this section of the site over time.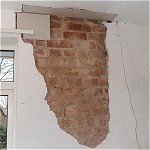 This plastering repair project in Woodley was necessary due to a damp patch caused by an old central heating boiler flue. After a new boiler was installed and the old flue removed, all loose plaster was taken off and the brickwork treated with SBR Bond, a latex based water resistant bonding agent and admixture for use in areas subject to humidity, dampness and continuous water contact. The wall was then given one coat of sand and cement screed and once it was dry a final plaster skimmed finish was applied.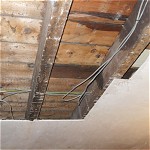 The plastered ceiling of the lounge in this property in Romiley, Stockport, was damaged by a water leak from the shower in the bathroom above. The wet and damaged plaster was removed, along with all old nails, and the joists all cleaned up too. The hole was boarded out with new gyproc plasterboard, firmly secured with screws, and then a finished plaster skim applied to blend the large patch into the rest of the existing ceiling plaster.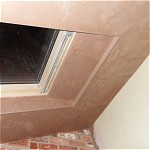 This plastering project in Woodsmoor, Stockport, was on an existing conservatory where the glass roof had been changed to a traditional solid roof with Velux skylights. Plasterboard was fixed to walls using the dot 'n' dab technique and the plasterboard ceiling was built-up around roof joists and the Velux. Some of the plain brickwork was left as an attractive feature - the rest of the walls and the new ceiling were then skimmed with a coat of smooth plaster finish. The conservatory has been transformed into a much more contemporary room and will be far more practial for all-year-round use too.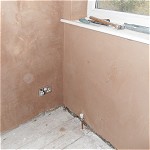 This plastering job in Bredbury, Stockport, was needed because lots of old plaster came off when the customer used a steam stripper on the walls. All loose plaster was removed before coating with a PVA Bond. This is a multi-purpose bonding agent, primer, sealer, cement and plaster admixture that adheres to most common building and DIY materials. It's ideal for priming unsound surfaces prior to plastering or painting. The walls were then fully reskimmed with a finish plaster coat to leave them pristine and new, ready for redecorating once dried out.